Roller coating machines deposit an even layer of the appropriate material at a controlled thickness.They are used for applying lacquers and for base coats in decorative systems.They can be operated independently, with their own feeders, or in line with a printing press. The principle of operation is shown in the diagram .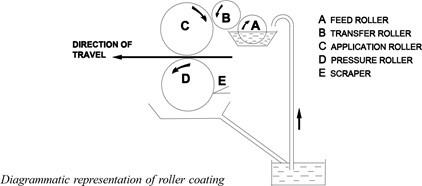 A steel fountain roller rotates in a feed tray containing coating material which is transferred to a distributor roller and an applicator roller. A pressure roller acts in conjunction with the applicator roller to drive the sheet through the nip. Film weight is controlled by a gap between the fountain, transfer and application rollers; a heater is often fitted to maintain the correct viscosity. Surplus coating material is removed from the pressure roller by a scraper and recycled. When sheets are covered over the full width of the applicator roller, a plain coating roller is used. An application roller with margins cut into it is used when longitudinal margins without lacquer are required for soldered and welded can body seams.
A spot coating roller system is used where coating material is only required on discrete areas of the sheet (for example when white base coating is needed for the centre panel of a circular can or end where the remainder of the design is not to be coated).This system may also be utilised as a way of reducing lacquer usage when multiple circular areas require to be spot coated on each tinplate sheet.Typical coatings which may be applied include clear size, lacquer, pigmented base coat and over-varnish. A sizing varnish is often applied first, to ensure that subsequent coatings are sufficiently keyed to the surface so that they will not crack when the sheet is distorted and to improve the appearance of print when a pigmented base coat is not required.
Lacquers are generally applied to one side of a sheet to form the internal surface of a container. However, lacquers are also used in printing to give a metallic external decorative effect (commonly gold) and may also be required for external corrosion protection. Lacquers are cured by stoving in the range 180 – 205°C , depending upon formulation.Pigmented base coats consist of one or more pigments dispersed in an organic base. When this is white, it provides a bright base for successive colours. Stoving temperatures may be in a wide range up to about 160°C .Over-varnish is applied as a final coating to protect the inks from scratching during tooling and subsequent handling and to provide lubrication to the surfaces during forming processes.
In addition to their toughness and tack-free curing, varnishes must also be able to withstand the stoving temperature (up to 170°C ) without discolouring.After each pass through the roller-coater, the tinplate sheets are picked up by a series of closely-spaced racks (wickets) on an endless chain which hold them in a near vertical position and carry them through the curing oven.The ovens, which are usually gas-fired, direct blasts of hot air at the sheets and consist of three zones.
In the first (come-up) zone, the sheets are raised to the stoving temperature.In the second zone, they are held at this temperature for the required time.In the final zone, the sheets are cooled sufficiently to be handled by automatic unloaders.As the sheets pass continuously through the oven, this necessitates the use of ovens 24-30 metres in length to accommodate throughput rates of 4000-7000 sheets per hour.