Scrap Preparation Process
Most of the metallic needs of the EAFs are met with scrap. Scrap is being charged to the EAF.
Obsolete scrap may be prepared for charging in different ways
Shredding is the dominant scrap preparation process, for recycling cars and domestic appliances. Many scrap dealers and EAF steelmakers are installing such equipment because of the advantages regarding contamination with soil, density, and corresponding lower energy and lime consumption, and even less noise. Shredders may operate under humid (originating a liquid waste, but with less air pollution) or dry conditions.
A typical installation is seen below.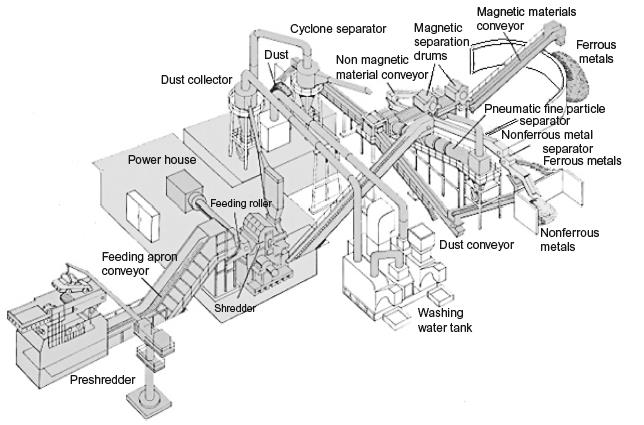 Usually, they include a heavy rotor turning at high speed to reduce the scrap fed into the rotor housing, a dedusting system for air cleaning, equipment to separate the scrap, and a variety of systems to divide the shredded material into ferrous, nonferrous, and residues. Classification is by size or drive power (small, medium, large, and very large (mega-shredder)). In Japan small ones are preferred, in
Europe medium size is the choice, and in the United States the market is dominated by large and mega-shredders. Regarding air cleanliness, there are dry, dump, and wet shredders.
More tools are being incorporated to shredders, either upstream or downstream, in order to separate elements like copper or materials like plastics.
An example of chemistry and density (an important factor for productivity) of different raw materials is presented.