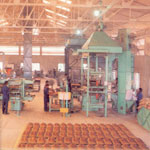 Shell Molding is a process for forming a mold from precision resin-bonded sand mixtures brought in a contact with preheated (300-500 F, 148.89-260 C) metal patterns, resulting in a firm shell with a cavity corresponding to the outline of the pattern. The molds have walls from ½" to 3/8" thick. In shell molding the fine sand is coated with a thermosetting resin which provides the relatively high strength required enabling this thin section, or shell, mold to be produced.
The shell molding process is a precision sand casting process capable of producing castings with a superior surface finish and better dimensional accuracy than conventional sand castings. These qualities of precision can be obtained in a wider range of alloys and with greater flexibility in design than die-casting and at a lower cost than investment casting. The process was developed and patented by Croning in Germany during World War II and is sometimes referred to as the Croning shell process.
The use of fine-grained, high purity sand allows smooth surface and dimensional accuracy to both molds cores and castings. In conventional sand molding the use of such fine sand is not possible because it reduces mold permeability. This has the effect of trapping of air and mold gases, causing short0run castings or castings containing gas defects.
The shell mold accurately replicates the pattern detail and dimensions for a precision casting to be produced because the resin bond is developed whilst the mold is in contact with a heated pattern plate. Also unlike the green sand process, the mold is separated from the pattern without having to enlarge the cavity. Use of Zicron sand instead of silica sand further improves casting accuracy because the expansion of zircon sand, caused by the heat of the cast metal, is both lower and more predictable than that of silica sand. Foundry production of castings by the process is comparatively straightforward and the process lends itself readily to close control, with the advantage of consistency in the castings produced.
The materials that can be used with this process are cast irons, and aluminum and copper alloys. Typical parts made with this process are connecting rods, gear housings, lever arms etc.